Do you believe in love at first sight? In feeling that immediate spark that makes you know this is it, that is the one. I've always been a big believer in love at first sight. And the cover for my latest novel, LIES AND OTHER ACTS OF LOVE is no exception. My editor sent me three options, and I just knew the second my cursor glanced over this one that this cover was just right for my book! And do you know what? She felt exactly the same way! Serendipity, I tell you. So, without further ado… My brand-new book's photo: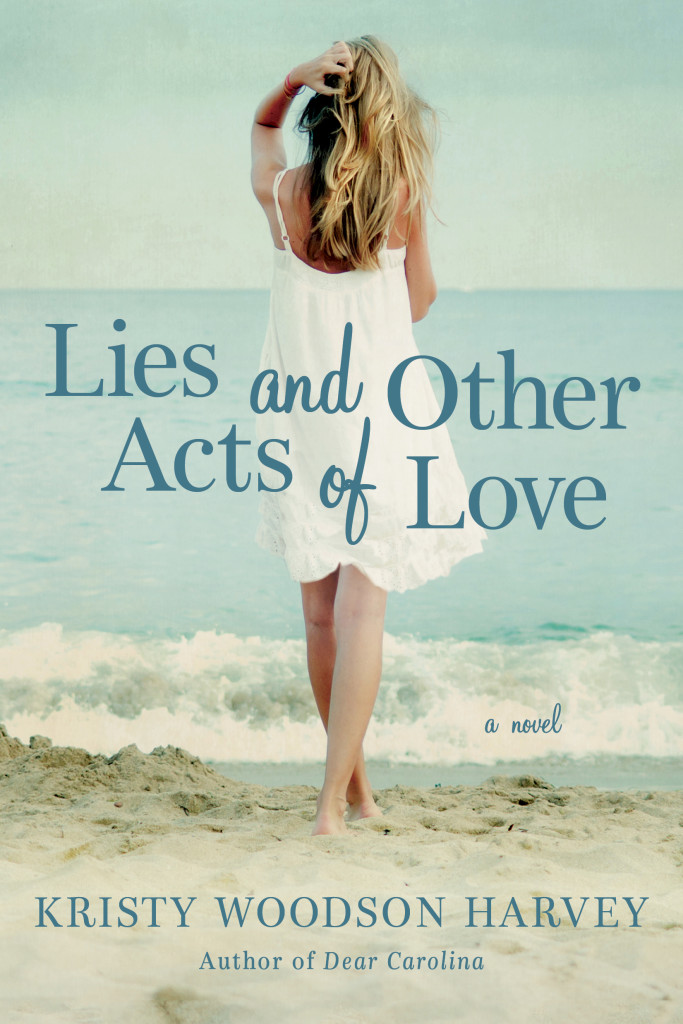 I am celebrating this cover in a big way because I am so in LOVE with it. And you know what? Some of my favorite author friends are celebrating with me to giveaway a HUGE book bundle… This might be enough books to tide you over until LIES AND OTHER ACTS OF LOVE releases on April 5, 2016! Three bundles, three chances to win!
Book Bundle 1: MY VERY BEST FRIEND, Cathy Lamb; THE DOG YEAR, Ann Wertz Garvin; CONFESSIONS OF A PARIS PARTY GIRL, Vicki Lesage; VINTAGE, Susan Gloss; DEAR CAROLINA, Kristy Woodson Harvey; FUGITIVE COLORS, Lisa Barr
Book Bundle 2: THE COINCIDENCE OF COCONUT CAKE, Amy Guertin Reichert;  CLOSE TO DESTINY, Adria Cimino; LEMONGRASS HOPE, Amy Impellizzeri; KEEP THE ENDS LOOSE, Molly Duncan Campbell; ROME IN LOVE, Anita Hughes; LITTLE BLACK LIES, Sandra Block
Book Bundle 3: THE MIDDLE OF SOMEWHERE, Sonja Yoerg; WAKING UP JOY, Tina Ann Forkner; WHILE YOU WERE GONE, Kate Moretti; THE BEAUTIFUL DAUGHTERS, Nicole Baart; ENTANGLEMENT, Katie Rose Guest Pryal; DEAR CAROLINA, Kristy Woodson Harvey
Check out the other fabulous bloggers participating in my cover reveal:
And, of course, let me know what you think of the cover! LIES AND OTHER ACTS OF LOVE releases 4.5.16 from Berkley/Penguin Random House. It's currently available for pre-order at your local bookstore, Amazon and Barnes & Noble.
More about LIES:
Dear Carolina was praised as "Southern fiction at its best."* Now author Kristy Woodson Harvey presents a new novel about what it really means to tell the truth . . .
After sixty years of marriage and five daughters, Lynn "Lovey" White knows that all of us, from time to time, need to use our little white lies.
Her granddaughter, Annabelle, on the other hand, is as truthful as they come. She always does the right thing—that is, until she dumps her hedge fund manager fiancé and marries a musician she has known for three days. After all, her grandparents, who fell in love at first sight, have shared a lifetime of happiness, even through her grandfather's declining health.
But when Annabelle's world starts to collapse around her, she discovers that nothing about her picture-perfect family is as it seems. And Lovey has to decide whether one more lie will make or break the ones she loves . . .
 "LIES AND OTHER ACTS OF LOVE will grab you by the heart strings and pull hard. A perfect story about the lies we tell and the secrets we keep– all in the name of love." – Liz Fenton and Lisa Steinke, authors of The Status of All Things and Your Perfect Life 
"LIES AND OTHER ACTS OF LOVE by Kristy Woodson Harvey is a richly detailed, intergenerational tale of love, loss and loyalty. Harvey pulls the reader into the hearts and souls of her characters." — Heather Gudenkauf ~ New York Times bestselling author of The Weight of Silence
And, of course, if you're looking to pass the time until LIES AND OTHER ACTS OF LOVE releases, pick up a copy of DEAR CAROLINA!
Thanks so much for stopping by today! We'll be back to our regularly scheduled design loveliness tomorrow!
---

---
---