Happy Monday, friends! Today, we are celebrating big time. Slowly but surely, our place in Beaufort is coming back together after Hurricane Florence's house party more than a year ago. The house isn't livable yet, but the third floor is ready for its close up, and we couldn't be more excited to share it with you. We teamed up with our friends at Serena & Lily to create a cute playroom that also works well for the whole family–and we thought it would be fun to share some of our favorite tips for adding casual style to your space.
Add a touch of whimsy! For us, this adorable hanging swing not only added a touch of whimsy but made a difficult-to-decorate slanted attic space fun and functional.

---
2. Lighten the wood. Dark wood is great for serious spaces, but lightening it up makes things a bit more casual. 

---
3. Mix up materials. Rattan chairs lend a touch of casual chic style that makes any room instantly feel like a vacation.

---
4. Fun pillows. We love serious pillows as much as the next people, but a cute tassel and wide stripe make a space feel comfy and casual.

---
5. Textured lamps and shades. Pretty porcelain has its place, but these textured lamps have a handmade feel that is super cool. And natural fiber shades are a great alternative to traditional silk.

---
6. Casual rugs. Bright colors, bold patterns and easy fabrics combine to create rugs that are perfect for taking the formality down a notch.

---
7. Baskets. Baskets are one of our favorite decor elements for adding instant storage and laid-back style. 

---
8. Beanbag chairs. Nothing says "fun" like a beanbag chair. These loungers are an upgraded take on an old favorite.

---
9. A pretty pouf. A sweet pouf not only doubles as a footrest or extra seating but also signifies that a room doesn't take itself too seriously.

---
10. Fun art. Three-dimensional art in particular brightens a room. In our playroom, surfboards got a new life as sea animals from late local artist Craig Gurganus of Fish Bouffant. These Serena & Lily mounts add a sweet touch to this room. 

---
Do you prefer casual spaces or more formal ones? 
In case you missed our kitchen update you can see it here!
Thanks so much for making Design Chic a part of your day. We love it when you stop by!
Playroom Photos by Smith Hardy Photography.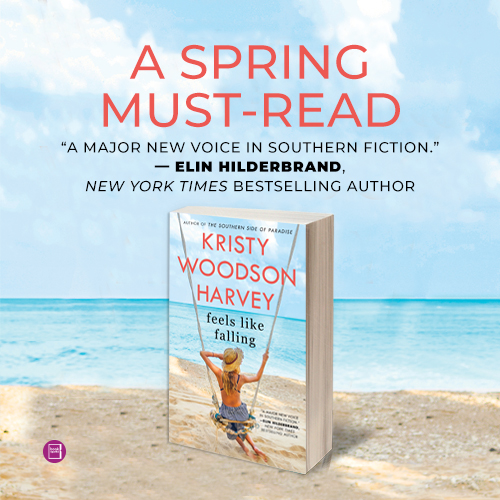 I am so excited that my new novel Feels Like Falling releases on April 28!
More About Feels Like Falling…
From "the next major voice in Southern fiction" (Elin Hilderbrand) and the bestselling author of the Peachtree Bluff series comes an odd couple tale of friendship that asks just how much our past choices define our happiness. 
In her warmest, wittiest, and wisest novel yet, Kristy Woodson Harvey delivers a discerning portrait of modern womanhood through two vastly different lenses. Feels Like Falling is a beach bag essential for Harvey fans—and for a new generation of readers.
_____________________________________
FOR MORE INSPIRATION VISIT OUR INSTAGRAMAND PINTEREST AND OUR TOP TEN POSTS OF 2017 HERE  AND TOP TEN POSTS OF 2018 HERE