Combining form and function while keeping an eye toward a home's historical context
is easier said than done. 
But it's a design idea that, in philosophy and practice,
is what makes Sage Design 's work in such good taste.
Kitchen storage is something we can never get enough of. Islands like this with plenty of space for cookbooks are always our favorites.
Open shelving adds that instant homey, cottage feel
even in the grandest of homes.
Sage Design loves using open shelving. They're so elegant and perfect for showcasing simple essentials.
More storage where it matters most.
This tub has me longing for my home and relaxing soaks.
Sage Design is a beautiful way to start (or end) the day!
We hope, wherever you are, you're day is starting just as well!
_______________________________
Click on each image Below to Learn More About the Product: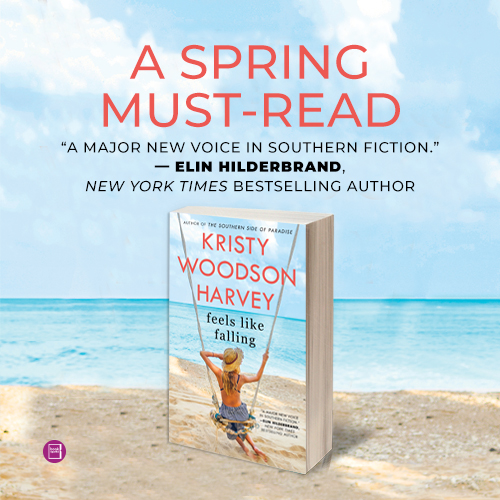 I am so excited that my new novel Feels Like Falling releases on April 28!
More About Feels Like Falling…
From "the next major voice in Southern fiction" (Elin Hilderbrand) and the bestselling author of the Peachtree Bluff series comes an odd couple tale of friendship that asks just how much our past choices define our happiness. 
In her warmest, wittiest, and wisest novel yet, Kristy Woodson Harvey delivers a discerning portrait of modern womanhood through two vastly different lenses. Feels Like Falling is a beach bag essential for Harvey fans—and for a new generation of readers.
_____________________________________
More Tour Dates for The Southern Side of Paradise
September 9th, 2019: Prologue Event with The Star News and WHQR, The MC Erny Gallery, 254 N. Front Street #300, Wilmington, NC, 12 noon, Free and Open to the Public. Book sales by Two Sisters Bookery. 
September 12-15, 2019: Southern Independent Booksellers Association Discovery Show, Spartanburg, SC.
September 13, 2019: Cover Reveal for Feels Like Falling! All day. Follow @kristywharvey on Instagram for exclusive giveaways and information
. 
September 15, 2019: SIBA Gallery Writers Breakfast, Azalea Ballroom, Spartanburg, SC, 7:30-9 am, with Mary Alice Monroe, Lynn Cullen and Kristin Harmel, Emcee: Kimberly Taws Daniels of The Country Bookshop. 
September 25, 2019: New Bern, NC Book Club, Private Event.
October 16, 2019: Kristy will "take over" A Novel Bee Facebook Group all day. Visit the page for fun guests and giveaways.
October 17, 2019: Clinton, SC Multi Book Club Event. Private.
October 18, 2019: "W.I.S.E" Fireside Chat with Chef Vivian Howard, Rene Chou from WRAL and Chief Justice Beasley, emceed by Kate Daniels, Walnut Creek Country Club, Goldsboro, NC, VIP experience 5-5:30, Program begins at 6:30.
January 3-5, 2020: Best of Our State with Our State, Pinehurst Resort, Pinehurst, NC. Celebrate North Carolina with Our State as the magazine "comes to life" with music, history, humor, storytelling, art, and food at the Pinehurst Resort. The Best of Our State is a lively weekend of learning and luxury designed to rejuvenate the senses to begin the new year. Click here for more information and tickets. 
January 21, 2020: United Way Pitt County Annual Fundraiser, Greenville, NC.
February 13-16, 2020: Savannah Book Festival, Savannah, GA.
February 22, 2020: Ladies Luncheon and Signing Event at the Beaufort Hotel, Beaufort, NC. 
April 28, 2020: Feels Like Falling Releases! We are working hard on the Feels Like Falling tour. We can't wait to share all tour dates with you in January!
FOR MORE INSPIRATION VISIT OUR INSTAGRAMAND PINTEREST AND OUR TOP TEN POSTS OF 2017 HERE  AND TOP TEN POSTS OF 2018 HERE