We don't like to play favorites, but, well, we're only human.
And every single time, without fail, that we discover a new Suzanne Kasler project, it's love at first sight.
(She's also really nice, so that doesn't hurt her standing in our hearts!) 
A penthouse is kind of the dream, right? 
Being on the top of the world with the most beautiful view. 
It isn't ever easy finding the right spot–and finding the best person to bring your vision to life can be a challenge in and of itself. But, when this Atlanta couple found their dream Pied-à-Terre in Buckhead, they already knew their dream designer since Kasler had designed their Sea Island home. 
And create a dream apartment, she did. 
A bright, airy color palette and open-but-not-too-open floor plan combine to create a stunning pied-à-terre that feels like home. 
Each beautiful detail combines seamlessly to create a modern space perfect for entertaining or simply getting away. 
We think we saved the best for last… Isn't this bathroom dreamy? What is your favorite space?
Erica George Dines Photography
Thanks so much for stopping by today! We always love seeing you here!
Don't Miss the 20% OFF  EVERYTHING Friends & Family Sale at SERENA & LILY!!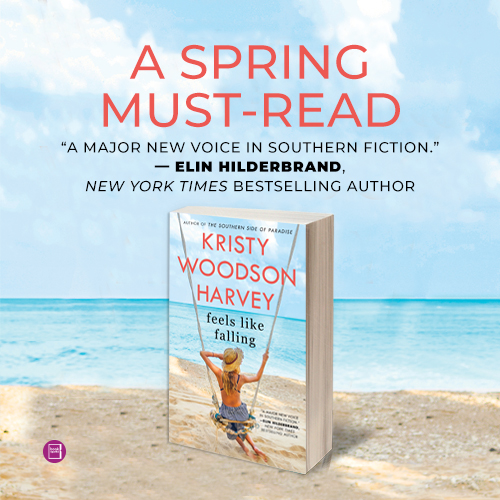 I am so excited that my new novel Feels Like Falling releases on April 28!
More About Feels Like Falling…
From "the next major voice in Southern fiction" (Elin Hilderbrand) and the bestselling author of the Peachtree Bluff series comes an odd couple tale of friendship that asks just how much our past choices define our happiness. 
In her warmest, wittiest, and wisest novel yet, Kristy Woodson Harvey delivers a discerning portrait of modern womanhood through two vastly different lenses. Feels Like Falling is a beach bag essential for Harvey fans—and for a new generation of readers.
_____________________________________
More Tour Dates for The Southern Side of Paradise
October 17, 2019: Clinton, SC Multi Book Club Event. Private.
October 18, 2019: "W.I.S.E" Fireside Chat with Chef Vivian Howard, Rene Chou from WRAL and Chief Justice Beasley, emceed by Kate Daniels, Walnut Creek Country Club, Goldsboro, NC, VIP experience 5-5:30, Program begins at 6:30.
January 3-5, 2020: Best of Our State with Our State, Pinehurst Resort, Pinehurst, NC. Celebrate North Carolina with Our State as the magazine "comes to life" with music, history, humor, storytelling, art, and food at the Pinehurst Resort. The Best of Our State is a lively weekend of learning and luxury designed to rejuvenate the senses to begin the new year. Click here for more information and tickets. 
January 21, 2020: United Way Pitt County Annual Fundraiser, Greenville, NC.
January 30, 2020: "Southern Lunch Event" with Mary Alice Monroe and Kristin Harmel. In Conversation with Kristina McMorris. Hosted by Adventures by the Book. 12 pm, Claim Jumper, San Diego, CA. 
February 1, 2020: SuperBook Weekend Adventure, Aboard the Queen Mary, Long Beach, CA. Click here for more information and tickets.
February 13-16, 2020: Savannah Book Festival, Savannah, GA.
February 22, 2020: Ladies Luncheon and Signing Event at the Beaufort Hotel, Beaufort, NC. 
April 28, 2020: Feels Like Falling Releases! We are working hard on the Feels Like Falling tour. We can't wait to share all tour dates with you in January!
FOR MORE INSPIRATION VISIT OUR INSTAGRAMAND PINTEREST AND OUR TOP TEN POSTS OF 2017 HERE  AND TOP TEN POSTS OF 2018 HERE