When you live on the coast, you have a lot of time to think about which things in your home are most important to you. At least once a year there is some sort of hurricane or major storm and, not wanting to be stuck on an island indefinitely, we evacuate. (It was the deal I made with my husband when we moved! I'm pretty sure he would never leave…) Generally, we don't give it much thought.
Board up, pack a bag, hope for the best, come home and assess. But everyone has those things that are most important to them, those special, sentimental pieces that represent family or trips or happy times, the non-negotiables that they pack up and take when a disaster seems imminent because they would be heartbroken if they lost them.
It could be signed books, family silver, favorite, irreplaceable photos taken during a time when clouds lived in the sky, not on our cell phones and laptops. Collections, if you will, that don't fall into the "it's just stuff" category.
It could be a collection of treasured blue and white china, collected over generations and passed down or simply gathered through years.
Baskets adorning a wall
Or maybe even family china or linens, repurposed and much loved. For me, for years, it was nothing. But, when Hurricane Florence came, and maybe now, ever after, I took two treasures: an antique lapdesk and an early 1800s mother-of-pearl and sterling dessert set that belonged to my husband's grandmother and was one of my favorite wedding gifts. It was far too beautiful for floodwaters.
Are you a collector–or a wannabe collector? What would you collect if you were going to start?
Like what you see in our posts? Follow @kristywharvey on liketoknowit.com
_________________________________________________
Click on each image Below to Learn More About the Product: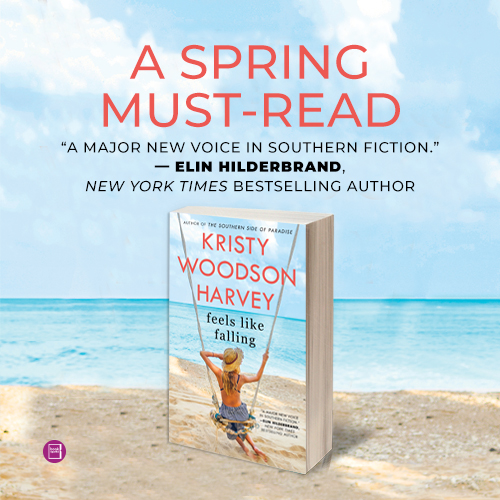 Feels Like Falling preorders are rolling in! Get yours today!
More About Feels Like Falling…
From "the next major voice in Southern fiction" (Elin Hilderbrand) and the bestselling author of the Peachtree Bluff series comes an odd couple tale of friendship that asks just how much our past choices define our happiness.
It's summertime on the North Carolina coast and the livin' is easy.
Unless, that is, you've just lost your mother to cancer, your sister to her evangelical husband, and your husband to his executive assistant. Meet Gray Howard. Right when Gray could use a serious infusion of good karma in her life, she inadvertently gets a stranger fired from her job at the local pharmacy.
Diana Harrington's summer isn't off to the greatest start either: Hours before losing her job, she broke up with her boyfriend and moved out of their shared house with only a busted Impala for a bed. Lucky for her, Gray has an empty guest house and a very guilty conscience.
With Gray's kindness, Diana's tide begins to turn, but when the one that got away comes back, every secret from her past seems to resurface all at once. And, as Gray begins to blaze a new trail, she discovers, with Diana's help, that what she envisioned as her perfect life may not be what she wants at all.
In her warmest, wittiest, and wisest novel yet, Kristy Woodson Harvey delivers a discerning portrait of modern womanhood through two vastly different lenses. Feels Like Falling is a beach bag essential for Harvey fans—and for a new generation of readers.
_____________________________________
More Tour Dates for The Southern Side of Paradise
September 25, 2019: New Bern, NC Book Club, Private Event.
October 16, 2019: Kristy will "take over" A Novel Bee Facebook Group all day. Visit the page for fun guests and giveaways.
October 17, 2019: Clinton, SC Multi Book Club Event. Private.
October 18, 2019: "W.I.S.E" Fireside Chat with Chef Vivian Howard, Rene Chou from WRAL and Chief Justice Beasley, emceed by Kate Daniels, Walnut Creek Country Club, Goldsboro, NC, VIP experience 5-5:30, Program begins at 6:30.
January 3-5, 2020: Best of Our State with Our State, Pinehurst Resort, Pinehurst, NC. Celebrate North Carolina with Our State as the magazine "comes to life" with music, history, humor, storytelling, art, and food at the Pinehurst Resort. The Best of Our State is a lively weekend of learning and luxury designed to rejuvenate the senses to begin the new year. Click here for more information and tickets.
January 21, 2020: United Way Pitt County Annual Fundraiser, Greenville, NC.
February 1, 2020: SuperBook Weekend Adventure, Aboard the Queen Mary, Long Beach, CA. Click here for more information and tickets.
February 13-16, 2020: Savannah Book Festival, Savannah, GA.
February 22, 2020: Ladies Luncheon and Signing Event at the Beaufort Hotel, Beaufort, NC.
April 28, 2020: Feels Like Falling Releases! We are working hard on the Feels Like Falling tour. We can't wait to share all tour dates with you in January!
FOR MORE INSPIRATION VISIT OUR INSTAGRAMAND PINTEREST AND OUR TOP TEN POSTS OF 2017 HERE AND TOP TEN POSTS OF 2018 HERE